Otto Rohwedder and the Evolution of Sliced Bread
Florence Ditlow, February 25 2013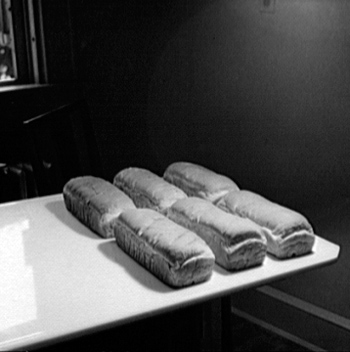 The woman of the house in 1928 sliced her own bread, whether or not she baked it at home. A loaf of bread was customarily wrapped in a cotton cloth and stored in a metal box large enough to hold two loaves; appropriately it was named the "bread box". Otto Rohwedder changed our way of consuming bread when he invented the bread slicing machine. Rohwedder was an Iowa native through-and-through. He was born in Des Moines on July 7, 1880 and later worked on his invention in Davenport and Bettendorf.
Rohwedder was first trained in optics and the production of eyeglasses. He then made an income for his family as a jeweler, owning a store. His mechanical talents eventually built towards a "whole wheat" passion for bread slicing. In the early 1900s and before, there was not a good way to preserve bread once it had been cut. Bakers who did slice bread had to hold it together with hat pins to prevent it from going stale. Therefore, bakeries sold whole loaves uncut to preserve the preferred texture.
Rohwedder's work began before 1917 and was halted in that year when a fire destroyed his blueprints in a factory in Monmouth, Illinois. Though the written plans were "toast", Rohwedder began anew. Undaunted, he worked through the 1910s and 20s and patented a machine capable of slicing and wrapping the loaf with waxed paper. Electric pop-up toasters came along in 1926 and may have induced Otto to form a company, no doubt thinking of sandwich layering possibilities. In 1928, his first machine began to slice loaves at the Chillicothe Baking Co. in Missouri. The machine also wrapped the bread to keep it fresh. The owner, Frank Bench, became the first commercial baker to slice mechanically.
Just as Rohwedder started to get "on a roll", the stock market crash of 1929 reduced his "Mac- Roh" sales and he decided to work with an Iowa firm -- Micro-Westco Co. of Bettendorf. Micro-Westco purchased Rohwedder's machines and he became head of their bakery machine production.
Wonder Bread's now dubious campaign to build strong bodies needed slicers to accomplish the cutting of a new form of bread, and they built their own machines in the early 1930s. The wider advertising and use of sliced bread however, ensured the success of Rohwedder.
The "father of sliced bread" lived to enjoy sliced bread as French toast, club sandwiches, and dry slices for bread pudding. By then his upgraded machine wrapped bread in cellophane. He died in Concord, Michigan on November 8, 1960. One of the first models of his original slicing machine is now housed at the Smithsonian Institution in Washington, D.C. This relatively unknown mastermind altered the meals of the world forever.
comments powered by

Disqus