The Life of Young Phil Ivey
Nir Zilberman, December 4 2012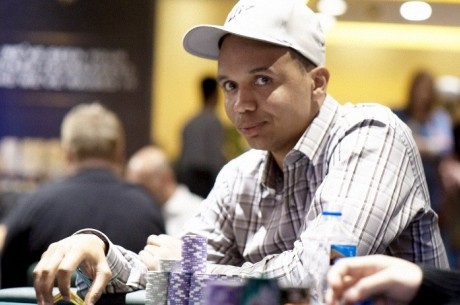 If you mention the name Phil Ivey around the poker tables, one of two things may occur. The first is complete silence and attention as people wait to hear what you have to say about Ivey. The second is a wide discussion around the tables, all surrounding Phil Ivey and his exploits. That is the case when you are talking about one of the best poker players in the world today.
Phil Ivey is considered by many in the poker industry the best professional player today, and with 8 WSOP bracelets, 1 WPT title and 9 final tables and with a total winnings of over $16,000,000 in live tournaments (not to mention cash games and online poker winnings), he has surely made his case as one of the best.
So how did Phil Ivey become the best poker player in the world as of 2012?
The early days of Phil Ivey
It all started back on February 1, 1976 when Phillip Dennis Ivey Jr. was born in Riverside, California. However his family moved to Roselle, New Jersey when he was only 3 months old.
The poker story of Phil Ivey begins at the age of 17 when he was working at a telemarketing firm in New Jersey. It was at that time that he started to sneak regularly into card rooms in Atlantic City using a fake ID under a fake name of Jerome Graham to play poker. It wasn't easy for him, because in order to sneak and play in the card rooms he had to ride a bus for 2 hours to Atlantic City and then back home, with another drive to the bus. He did this each and every day for 2 years.
In the 1990s, Atlantic City was still in its heyday as a gambling center on the East Coast. Most other states did not yet have casinos, and online poker was still unheard of. For these reasons a lot of very talented players congregated in Atlantic City, including some bona fide professionals.
Believe it or not, Phil Ivey used to be a very bad poker player before he became a successful professional. Other renowned players (and Ivey's friends today) such as Daniel Negreanu and Barry Greenstein were amazed at how bad Ivey played poker back then, so much so that Ivey used to be considered a "sucker" around the table. He lost his cash time and time again to his opponents.
Greenstein said that Ivey played too loose and got his money in bad situations and spots during the game. Negreanu also mentioned that Ivey used to play almost every hand, which is not the way to win money around the table. Overall the start of Ivey's poker career was neither successful nor glamorous, but the story does not end here.
When Ivey was 22 years old, Negreanu first noticed his stare at opponents which also became his trademark -- the stare into one's eyes during a game that gave chills. It was as if Ivey looked into every inch of the soul. This stare which worked so well around the table with the wild play of Ivey made it more and more difficult to put him on a hand or try to bluff him. He may have been a bad player when he was 17, but with every hand he played he learned more about the game, his opponents, and his mistakes, thus mastering his game the more he played against various styles.
Ivery goes onto the professional poker circuit
The next step Ivey took into the poker world was to join professional players Daniel Negreanu, John Juanda and Allen Cunningham as the four players traveled the circuit together and at the same time deconstructed their plays. Because Juanda was reserved in his play while Ivey was a loose-aggressive player, their discussions were amazing because they were at opposite ends of the poker spectrum.
All of the debates and knowledge shared among players paid off. The next time Greenstein faced against Ivey at the 2002 World Series of Poker Main Event, he said that Ivey's play had completely metamorphosed. By that time Ivey was a completely different player than the kid named "Jerome" had been in Atlantic City.
Phil Ivey began to lose his remaining anonymity in the year 2000 when he won his first WSOP bracelet, and from then on the rest is history. To this day Ivey claims to learn from each and every hand and tournament that he plays, to master his game even more completely. He works relentlessly at confusing his opponents and making them afraid of playing against him, so much so that many have thrown away better hands out of respect for Mr. Ivey. That work ethic and reputation is what makes Phil Ivey the best poker player in the world today -- along with his famous stare.
For more information about Phil Ivey and other professional poker players, check out View On Poker. Read for yourself how a regular person with the right skills can become a professional player and live the good life in Las Vegas, Nevada.
comments powered by

Disqus