Virginia Places -- "Chesapeake Bay Geology"
Lady Jane, January 21 2013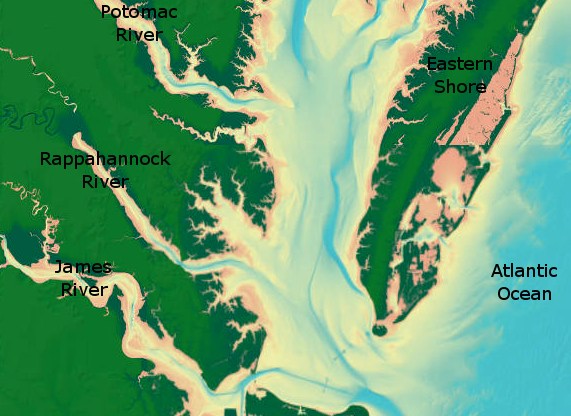 The Chesapeake Bay is the largest estuary in the United States. The history of its formation is more recent than one might expect -- it has only existed in its present shape for 10,000 years.
For at least 150 million years, however, the Chesapeake has existed as a coastal plain, draining a number of rivers into the Atlantic Ocean. These include the Susquehanna, Potomac, Rappahannock, York, and James. In fact, despite the young age of the Chesapeake itself, the Susquehanna is one of the oldest rivers in the world.
The Chesapeake became a bay at the end of the most recent Ice Age. Melting glaciers caused the sea level of the Atlantic Ocean to rise by about 100 meters. The plain was flooded at that point, extending the mouth of the Susquehanna north to its present position in Maryland, and establishing the Potomac and other rivers as separate watersheds. Previously all of the rivers listed above drained into the Susquehanna.
The water of the Chesapeake Bay supports a unique ecosystem which includes its renowned Maryland blue crabs and Virginica oysters.
Virginia Places has extensively documented the geological history of the Chesapeake Bay. It is recommended reading for anyone with an interest in this topic.
Related Topics
comments powered by

Disqus