Florida Hist. Society -- "Ponce de Leon and Florida's Fountain of Youth"
Lady Jane, February 1 2013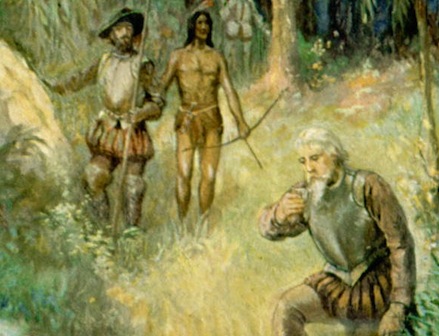 Juan Ponce de Leon became the first known European to set foot in what is now the United States on April 3, 1513. Thinking he had discovered another Caribbean island, he named the land La Florida, in honor of the lush vegetation and the Easter season, called Pascua Florida.
The Florida Historical Society has presented much material about Ponce de Leon in anticipation of the 500th anniversary of his arrival.
After a few years of political intrigue in Spain and Puerto Rico, Ponce de Leon returned to Florida in 1521 to make a more substantial claim, but things did not go well on his second expedition. Warriors of the Calusa tribe shot Ponce de Leon with a poisoned arrow, and he died shortly afterwards in Havana.
Ponce de Leon is known for having sought the "Fountain of Youth", but in fact this story is most likely a myth. According to the Florida Historical Society, the Fountain of Youth was never described in a primary source until 1535. In the labyrinth of New World politics, this claim was likely invented to discredit Ponce de Leon and his surviving allies. At some point since then, the story became accepted fact and even appeared in many history textbooks.
comments powered by

Disqus